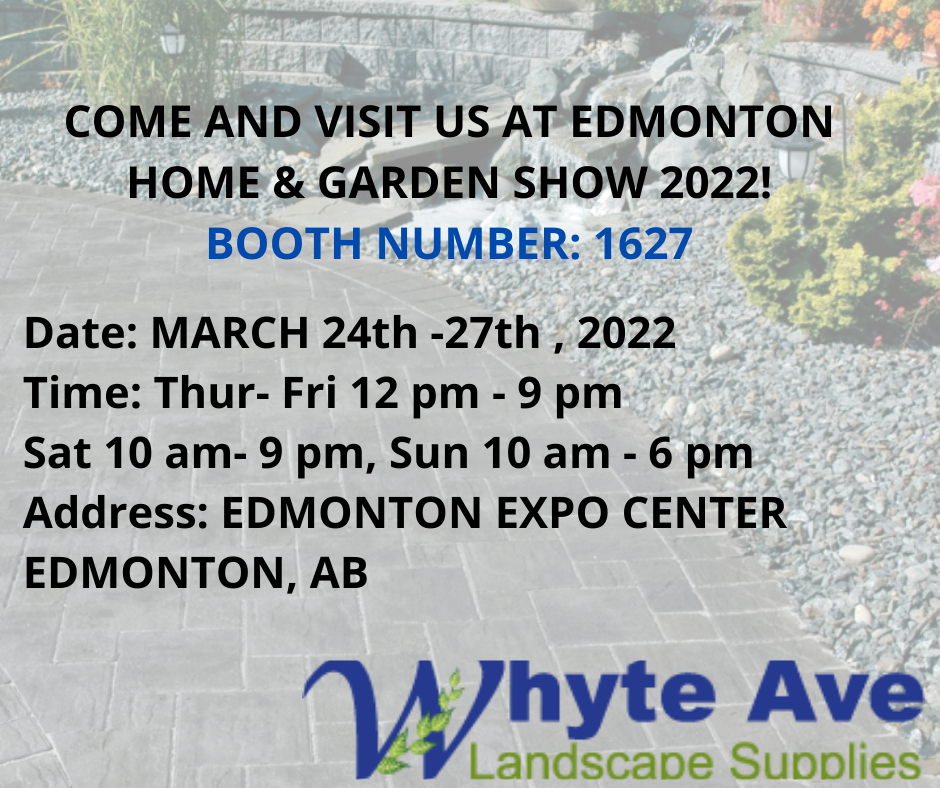 Welcome to Edmonton Home and Garden Show Edmonton 2022. Reserve your Quote! 15% Off on regular priced items.
Whyte Ave landscape supplies (WALS) center is Edmonton's one-stop for all the supplies you are looking for. We have been providing landscaping tools, rentals, landscaping materials and supplies of the best quality. Our goal is to provide best customer service to Edmontonians.
We provide supplies for all your handyman needs, DIY projects therefore offering many item in the giveaways and other promotional discounts. The sponsored products that are going to be in draw prizes are listed below, Come and visit us at the Home and Garden Show Edmonton 2022 to avail your offers.
Giveaway Products:
Manderley Less Water Sod:
For over 50 years, Manderley has been providing the highest quality landscaping products on the market, ready for installation.
Manderley Less Water Sod is Canada's first qualified drought tolerant lawn.
Reduces typical watering by up to 50%, saving you time and money.
Manderley sod stays green longer and greens up quicker.
Durable sod that is tolerant of high traffic.
Cold-hardy sod, ideal for Canadian climates.
Minimizes the environmental impact of your property by conserving water.
Manderley Alberta Green Fertilizers are specially designed to provide Alberta lawns with the right blend of nutrients for healthy plant activity throughout the growing season.
Manderley PRO Grade and Less Water grass seed lines use only high quality, better than Canada no. 1 grade seed mix, without any filler, ensuring full and lasting results. Do it right the first time, with Manderley products.
For more information: https://www.manderley.com/lawn-garden-products/sod/
Home and Garden Show offers By Whyte Ave Landscape Supplies
Up to 15% discount on regular items.
Once you register, get all-year-round discounts.
Become a client and you will always receive a 10% – 15% discount on your purchase.
Looking for a free quote, come and see us at the home and garden show.
Reservations are only till the end of the season.
Terms and Conditions at Home and Garden Show Edmonton 2022:
You can only reserve your spot on the home and garden show.
The quote estimation will be done after an appointment has been made.
Discount prices are only on regular-priced items.
The offer for registering is only available till the last day of the show.
You can reserve your quote till the end of the season.
To be qualified for the discount you must provide an advance payment of $500.
Advance payment is 100% refundable.
All sorts of landscape supplies are available to build your perfect project. Be it a DIY project or a full landscaping project, we have materials for all your ideas and projects.
A list of materials is available, check the links to see our Bulk Products, Hardscape Products, WALS Bag, Fabric and Edging, Sod, and Artificial Turf
Lists of Materials:
Gravel and Sand
Retaining Walls
Garden Wall Stone
Stone Landscape Walls
Concrete Pavers
Slabs And Tiles
Decorative Rocks
Mulch And Wood Bar
Soil And Garden Mix
Washed Rocks
Our goal with the Whyte Ave landscaping Supplies is to provide the best product and services to our customers. We once again are proud to say we will be giving you the best customer service.Â
Come and visit us on March 24th – 27th at the Edmonton Expo Center at booth number 1627. We will be happy to help you.
For more information visit the link below: